Welcoming Students To The Global Economy Through Interactive Internet Learning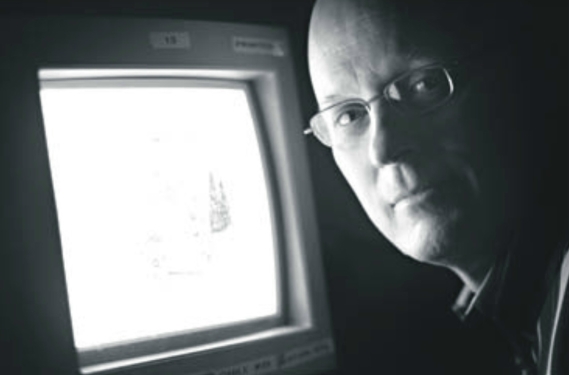 March 8, 2006
Los Gatos, California
Since 1881

Simulation Offers Stimulation
for History Students
Los Gatos High School teacher Denney Daetz has developed a computer game to stimulate students in his 20th-century world history class. For many students, the simulation is the highlight of the class.

By Michele Leung
Nigeria and Congo aren't big players on the global scene, but in the right students' hands they, too, can be superpowers.
Los Gatos High School history teacher Denney Daetz has developed an original simulation computer game in which the likes of Nigeria can be on top. The simulation is used in his 20th-century world history class at the end of each semester. The game, called SIMPOLICON©, asks teams of students to make political and economic decisions. Starting with natural resources, hand tools and unskilled labor, the students' goal is to achieve a balanced economy in a stable country.
"They can negotiate trades and make political decisions on pollution and foreign aid," Daetz said. "It's very dynamic."
Daetz's stint in the Peace Corps was the foundation for the game. He taught English in Ghana at a teacher training college from 1968 to 1971, where he said his eyes were opened to see how a third-world nation develops. Many times, he could see talent in an individual Ghanaian, but often, he said, that potential couldn't be realized because there wasn't an infrastructure to support that talent.
He contrasted that reality to the lives of his American students.
"They didn't have the concept of what the rest of the world is like," Daetz said. "The population of the United States is 5 percent of the world. I'm trying to get them to see how 95 percent of the world see things."
For many students, the simulation is the highlight of the class, but Daetz said that he may have played it for the last time. He has won a grant from the high school's New Millennium Foundation that will allow him to outfit his classroom with 30 new eMacs. But, ironically, the simulation will not run on the new operating system. He isn't sure what to do.
"I'm in a quandary," he said.
Options include setting aside a dozen of the old computers so that students this semester can still play. But word of the game's uncertain future has gotten out.
"Some of my friends really want to do the simulation. They say they want a particular country and [to] make an alliance," said sophomore Aaron Silverman, who took Daetz's class last semester. "They're hoping they don't get the new computers."
The first incarnation of the game was a pen-and-paper version that was born in 1979. Daetz taught himself to program so that the game could be played on the computer. To this day, the game has a very simple interface. There are no dancing figures, booms or ka-pows, but Daetz knows the simulation still draws students. It won an educational software award in 1984, and he has sold 700 copies to high schools around the country. When graduates come back to visit him, it's the simulation they talk about.
"It's still a generic program, but kids love to do it," Daetz said.
The gist of the game goes like this: if the students are interested in cultivating rice, they start with only hand tools and unskilled labor. But if students want to grow rice with skilled labor and machines, which is more efficient, they need to gather the ingredients for labor and machinery. To have skilled labor, students need a secondary school, which in turn requires lumber and small machines. To make small machines, students can manufacture steel from coal and iron, mine aluminum or trade for them.
But beware of the pollution points that arise from all of the development. Too many pollution points in the world, and all students get docked points.
"People were crying" last semester because of the pollution points, said sophomore James Johnson, who ran Malaysia the last time around.
The game, which Daetz runs for about two weeks, is an opportunity for students who normally don't do well in a traditional homework environment to succeed.
"You never know which student will come out on top," Daetz said. "Sometimes, the bookish 'A' students don't know how to come out of the box."
The countries that come out on top are those whose student leaders plan ahead and get involved in the simulation. They talk to each other at night, conferring with their teammates on who they should trade with. Lunch hours can be spent debating with other countries and developing world organizations, such as an association of poor countries. Countries that have an abundance of natural resources in the real world aren't always the ones that are the most successful in the simulation. Last semester, it was Congo and Nigeria beating the United States, Russia and India.
Daetz said he hopes his students become more empathetic as a result of playing. "They know what it feels like to be poor when everyone around you is rich," he said.
Aaron, whose friends are lamenting the possible end of the simulation, said one of the keys to his team's success last semester was making Portugal, their country, self-sufficient. He said he has an appreciation now for how complex the job of a world leaders is. His classmates have similar backgrounds and speak the same language, and yet there were still difficulties. "How much more difficult is it for people with all the different religions and backgrounds to interact in the world?" he said.
Kristen Hermosillo said she doesn't care much for history, but her experience running Congo made the class more memorable. "I'll remember the simulation," she said.
Daetz was able to move the game from pen and paper to the computer, but his programming skills stop there. His goal is to get parents to help him make the game platform independent and web-based. Ultimately, he'd like to see students in Los Gatos play with students around the world in real time. Perhaps, he said, the game can also help in bridging some differences around the world.
"I'm idealistic," he said. "It's been a labor of love. I do it because I believe in what it's trying to do."
Copyright © Knight Ridder