Welcoming Students To The Global Economy Through Interactive Internet Learning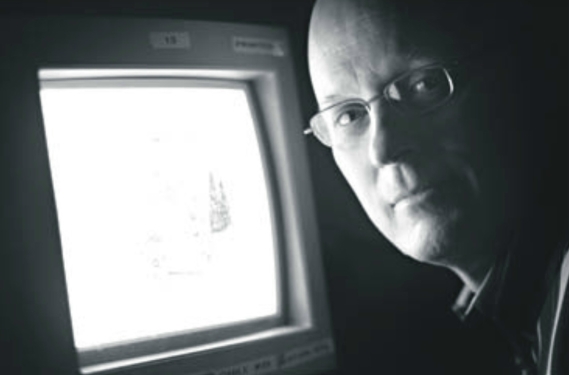 November 1, 2006
Los Gatos, California
Since 1881

Daetz wants a web-based version
of SIMPOLICON©
Los Gatos High School teacher Denney Daetz has developed a computer game to stimulate students in his 20th-century world history class. For many students, the simulation is the highlight of the class.

By Michele Tjin
Denney Daetz has spent more than 25 years teaching his students in Los Gatos to have empathy for the rest of the world. The message has resonated so well at home that some parents are doing what they can to allow him to speak to a larger audience.
With parents' help, Daetz has formed a nonprofit organization called the Akwaaba Organization, which will raise funds to develop a web-based version of SIMPOLICON©, a computer simulation game and teaching tool Daetz has been using for 25 years. Their first event is a wine and cheese fundraiser on Nov. 4, from 3 to 5 p.m. at Viva Restaurant.
Daetz, who teaches 20th-century world history to sophomores at Los Gatos High School, created SIMPOLICON©, which asks teams of students to make political and economic decisions as they run their own country. The game is very popular with students and aims to portray how complex it can be to run a nation and develop a balanced economy. Daetz created this game so that his students can see what other countries, particularly poorer nations, need to do in order to survive on the world stage, he said.
"They can negotiate trades and make political decisions on pollution and foreign aid," Daetz said. "It's very dynamic."
The simulation currently runs only on Macs, but Daetz is hoping through networking with parents and the community, he can have the resources to make SIMPOLICON© exist online so students elsewhere can take advantage of it for free. What's more, he's hoping schools everywhere can play the game in real time.
"Let's take it to other kids, break down barriers and open pathways," he said.
The impetus for developing the web-based version is the problem Daetz faces now in his class. Last year, he received 30 new computers from the New Millennium Foundation, but because of the changing nature of technology, his program will not run on the new computers.
"Students were saying, 'You can't drop the simulation,' " he said.
Of his old computers, Daetz saved 12 of them as a temporary solution so his current students can still go through the experience. He'll bring them out in December and may need to resort to them again next semester if the existing version isn't retooled with a more modern programming language.
Students have said the simulation is one memory that sticks with them long after they have left high school, and parents have been just as intrigued. Adriana Chiocchi was introduced to SIMPOLICON© through her son Alex, who was in Daetz's class last year. Alex and his team were assigned to run the island country of Madagascar.
"My son was completely immersed in the simulation, and he started talking about it every night, just living and breathing it," Chiocchi said.
After hearing through her son that Daetz needed help bringing SIMPOLICON© to the next level, she immediately signed up to help because she said she believed in the game's message. Students spend two weeks trading for lumber, feeding their country and producing consumer goods. Ultimately, they learn to take responsibility for their decisions, Chiocchi said.
"It's a great opportunity for kids in high school to learn things I didn't learn until I was in business," said Chiocchi, a lawyer with an interest in technology and world economics. "They learn that their decisions impact an entire global economy."
Daetz first got his idea for his program after spending three years in Ghana teaching with the Peace Corps, an experience that is still very much with him, he said. In fact, Akwaaba, the name of his organization, which is pronounced "ah-KWA-bah," is the Twi word for "welcome." Twi is a predominant language in Ghana.
"We're welcoming kids to the world economy through this simulation," he said.
Daetz and the parents who are on board have a vision that students around the world, from middle school to university level, will have a shared experience through SIMPOLICON©. Daetz would like to hold workshops one day to teach teachers how to use the computer program. Chiocchi imagines global economics teams would compete and represent high schools in the same way that bands and debate teams do.
Volunteers are hoping the community will support Daetz and his SIMPOLICON© efforts. There will be a demonstration of how the game works at the Nov. 4 fundraiser.
"This will make it so everybody can use it," said Susan Katz, another parent volunteer. "This is something students never forget."
Copyright © Knight Ridder